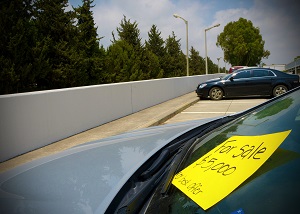 If you're considering buying a used car, your mind is probably whirling with all the possible unseen problems and damage you could be missing. Not to worry though! We've put together a quick checklist to help you ensure you don't have any surprises pop up after the money has been spent.
Follow these quick guidelines the next time you're out buying a used car:
Step 1 – Do Your Research!
The first step in buying any car is the research before you ever go look at the vehicle in person. If you have a type, make, or model of the vehicle you're looking for, start there. You will want to look for common issues with the model you're pursuing. Different types of vehicles will have a different set of issues to look out for. For example, if you're looking at a Jeep, you might want to know if it has ever been lifted. This is not a question you likely would ask of someone selling a Toyota Camry.
Step 2 – Check the Outside of the Vehicle
You will want to complete a full visual inspection of the outside of the vehicle. The three main items to run through are the body condition, tires and lights.
Body: Take a moment to walk all the way around the car looking for any signs of scratches, dings, dents or rust. If you notice any large areas of damage, that may be a red flag for the way the vehicle was treated. Also, look at the main body panels to ensure they all line up correctly. If you see uneven spaces, it could be an indication of a previous accident.
Tires: The tires can also tell you about how the car was maintained. Do they have multiple brands installed? Is there any sign of tire cracks, bulges or scuffs? If you notice anything out of the ordinary, be sure to ask the seller about their previous tire purchases.
Lights: Make sure all the lights (reverse lights, turn signals and high beams, too) work correctly, are not foggy and do not contain any moisture.
Step 3 – Check the Interior
There are a few items to check on the inside as well before we move on to the engine. The first thing you will probably notice is the smell. Mold and mildew smells could indicate water damage in the past. Check the seats for scratches, tears or wear. Also, make sure you can sit comfortably after seat adjustments. Then turn the car on and make sure all the gauges work and check all the electric switches. Again, if you notice anything out of the way, bring it up. It could save you money in the long run.
Step 4 – Check the Engine
Check these three major items for the overall vehicle health: 
Fluids: Pop the hood and check all the fluids including oil, transmission, power steering and brake. Find out where to check the fluids by checking the owner's manual.
The oil should be brown or black and have no moisture on the dipstick. If it's amber colored, it may have been changed recently.
Transmission fluid should be reddish pink and smell of oil. Brown or burnt orange fluid could indicate trouble with the transmission.
For the power steering and brake fluid, make sure they are topped off and aren't leaking under the vehicle
Radiator: Check all the outgoing hoses for cracks and leaks. Take note of any discoloration on the radiator itself as it could indicate a leak.
Belts & Hoses: Feel all the hoses to check for cracks and leaks. Also, check all belts for fraying or breakage of any kind.
Step 5 – Take It for a Drive
This is one of the most important parts of any used car inspection. Make note of any sounds, vibrations, shakes, resistance, or smells that occur while you're driving. Get it up to a decent speed to run through all the gears to check the transmission. You'll also want to check the brakes to ensure proper stopping power without a pull to either side.
We hope these tips will serve you well on your car buying adventures and help avoid wasted money and strife. If you've ever bought a lemon, you will know the headache and safety risks which goes into surprise auto repairs. Never let that happen by arming yourself with solid research and by following this quick pre-purchase checklist of items. Good luck out there!