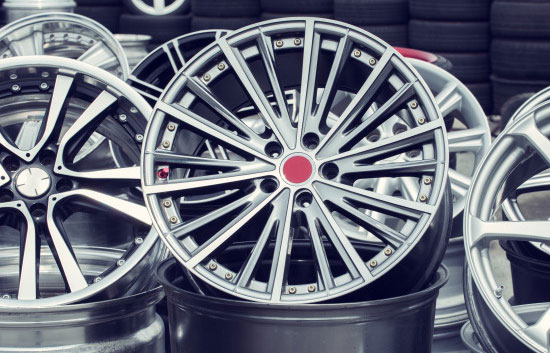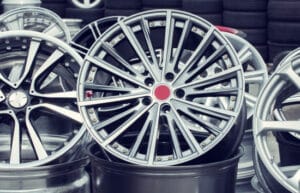 Wheels are necessary for all automobiles whether commercial or passenger. Typically, they provide two primary uses:
Reduce friction
Provide leverage
The rim is an important part of wheels. It rotates around rods that are called axles. Rims are made with many types of alloys and blends of metals, with different handling characteristics and maintenance needs. Wheels in vehicles could not be more diverse in form and construction.
Let's uncover two main types of automotive rim materials and discuss how they differ. This is important for those shopping for aftermarket wheels.
Steel Rims – Steel rims are made with an alloy of iron and carbon. They are durable and heavy. They are easier to repair and refinish. Despite the fact that steel rims are heavy and may dampen acceleration, fuel efficiency and agility, steel rims can offer more resistance to impact cracks. Moreover, steel rims are more resistant to damage from gravel, deicers, and brake dust. This quality makes wheels more popular for winter driving. Steel rims are generally less expensive than aluminum rims.
Aluminum Alloy Rims – Aluminum rims or alloy rims are made using a blend of aluminum and nickel. Today most rims are cast aluminum alloy. It means they are built by pouring molten aluminum into a mold. These rims with wheels are lightweight but strong. They can have the ability to heat well and are usually more attractive than steel rims. Aluminum rims are available in a variety of sizes and finishes. They are the perfect option for balanced performance, gas mileage, aesthetics and cost.
Compare the characteristics of these two-wheel material choices
Spoke Options – Aluminium rims come with a variety of spoke options, whereas steel rims have a few options.
Finish Options – Chrome, painted, powder-coated, machined, and clear-coated, bare polish, PVD are some of the popular finish options Aluminium rims have. Steel rims come with finish options like painted, chrome, powder-coated and chrome-clad. Both steel and aluminum rims are available at online tire stores in Toronto. Search for a reputed store to buy car wheels in Canada.
Finish Durability – Aluminium rims are lightweight but strong and somewhat impact-resistant. Bare polished and chrome-plated rims are susceptible to oxidation and scratching. Steel rims are durable against dings, impact cracks, pitting and peeling.
Driving Purpose – Aluminium rims are suitable for all purposes. They perform well for urban, rural and off-road and mountains. They are good for spirited driving, and custom and show vehicles. When it comes to steel wheels, they are optimum for four-season commuting and off-pavement travel. These wheels in Toronto are also ideal for recreational off-roading and travelling in heavy snow.
Fuel Efficiency – When it comes to fuel efficiency, Aluminium rims are a better choice due to their lighter wheel weight. Steel rims can be said to be good for fuel-efficiency.
Finish Care Considerations – Aluminium wheels perform throughout four seasons with proper maintenance. Bare polished and chrome-plated wheels require frequent cleaning where road deicing chemicals are used. Steel wheels are easier to maintain.
Cost – Aluminium rims can be good, whereas steel rims costs are lower.
Wheel material is only one factor of many in selecting custom wheels and rims. Limitless Tires is a leading auto repair service in Toronto, Canada. The company offers complete solutions for car tires or rims. Common wheel-related services include wheel balancing, wheel alignment. tire pressure, customer wheels, tire repair and more. Contact Limitless Tires to get the right rims or set of premier tires and wheels.